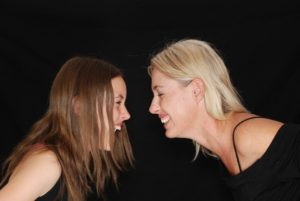 This post has been updated from the archives.
Forget about finding love in a hopeless place. That might be okay for the likes of Rhianna. But
what we really need is humor in a hopeless place. So, let's laugh until it's funny.
"The human race has one really effective weapon, and that is laughter."-Mark Twain

So, your ex is a jerk
Your ex is being so incredibly horrible, you don't recognize them; you never thought raising the kids in a single parent household could be so challenging.  Where did all the good times go?  You may ask yourself.
That's where humor comes in.  There is nothing better than laughter to relieve stress. Did you ever stop in the middle of it all and realize just how ridiculous it has become?  I certainly did, I laughed until it was funny. I even started to write a play to capture the absurd, outrageous and funny moments of my divorce. I still laugh today about some of the questions that were put to me in the court room. If you're not there yet, trust me you will be one day.  When you come out of this tunnel we call divorce, you'll see it differently.
Places to find humor
If you can't bring yourself to find humor in your divorce—I'm here to help. There are plenty of laughs to be found with social media, movies and good old television.   Here is some funny stuff to get you started on reaping those benefits.  A smile and a laugh can reduce stress, attract the opposite sex, increase blood flow to the brain, and best of all brighten a hopeless day.
Movies and Television
Bad Moms-I was pleasantly surprised with this movie starring Mila Kunis and whole cast of FUNNY women you'll love. They have a Bad Moms Christmas movie coming, too. (film)
Landline– this has a genuine retro vibe. It takes place in New York in the 90's. This one is on my 'to see' list and promises to pack a good laugh. (film)
The Unbreakable Kimmy Schmidt– I admit this show took more than a few episodes for me to 'get it'. Once I clicked with Kimmy (played by Ellie Kemper), there was no turning back and I root for her in every episode. It's colorful, quirky and full of established and new actors with tremendous talent. My favorite are the first two seasons. -Netflix, series
Baskets If you're a Zach Galifianakis fan, you'll love this one. He plays a rodeo clown. He also plays the role of his twin brother. (series)
Ricki & The Flash– There were a few things I didn't like about this movie but overall, a solid drama-dey. Meryl Streep plays a 'bad mom' who chose rock 'n roll over her kids. Is there a chance for redemption? It sounds serious but it has it's funny moments, too. (film)
Life In Pieces-going into its second season, this is a fast paced family sit com worth tuning into. (series)
Three Mics–this stand-up by Neal Brennan will have you rolling BUT he may cause a tear or two. He uses three mics, one for stand up, one for emotions, one for one-liners. (Netflix)
So, Laugh it up
Laughter truly is the best medicine and if you have a friend who makes you laugh—spend time with that one. Make a standing date with the friend who never fails to make you snort and accidentally pee your pants in fits of laughter. The world isn't hopeless without humor and neither are we.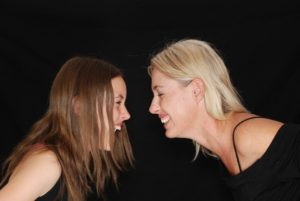 Your turn. What's making you laugh these days?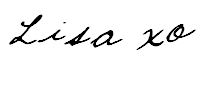 Know someone who would enjoy this post? Share it!
Related Posts: