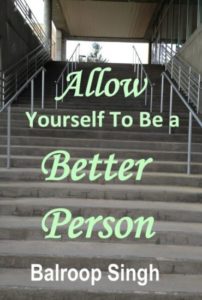 I've recently finished reading the non-fiction, self help book,  Allow Yourself To Be a Better Person by Balroop Singh. I felt compelled to share my review with all of my Escapees. Why? Because not only did I love this book but I'm sure you will also find value in Balroop's wisdom.
This is one of Balroop's five self published books—yes FIVE. The woman is prolific. Specifically, she is a prolific poet and you'll already know that if you are a visitor of her blog Emotional Shadows.
My Review
At first, I thought but I'm already a pretty good person, aside from a few (okay, many) flaws…I've learned so many lessons…what more must I learn?
Truth is, we all have room for improvement. Balroop writes about every aspect of becoming your best self by tackling arrogance, anger, fear, patience, inspiration and hope to name a few topics. With simple suggestions, and my favorite, her personal stories, Balroop takes you through each section with suggestions and acronyms to assist you in becoming your best self. She shares quotes from famous and not so famous writers, to emphasize her points. Overall, her advice is sage. For example, on regrets;
"It is quite natural to avoid what gives us pangs of guilt. We don't want to think about those wrong choices we made, those opportunities we have lost…I have learnt from my mistakes. ..Nobody has a perfect life—why have regrets? Accept them, live with them." 
Balroop goes further into deciphering between typical regrets and real regrets, providing comfort for those of us who have made mistakes (and who hasn't?).
I think anyone who is facing challenges in life will highly benefit from this book. What better time to read it than during divorce or a major life change? This is a book that I will periodically re-read sections of when in need of reminders. If I were to re-name this book (and I wouldn't of course), I would name it Balroop's Book of Comfort and Joy because it truly does exude those two elements.
I give this book *****/***** stars.
You can find Balroop's book on Amazon, Good Reads and visit her at her blog,  Emotional Shadows
Author Bio:
Balroop Singh, a doting grandma and a dedicated wife, a former teacher and an educationalist always had a passion for writing.  She is a poet, a non-fiction writer and a relaxed blogger. She writes about people, emotions and relationships. A self-published author, she has written four books and her fifth book 'Emerging From Shadows' would be launched on 21 July, 2017.
Balroop Singh has always lived through her heart. She is a great nature lover; she loves to watch birds flying home. The sunsets allure her with their varied hues that they lend to the sky. She can spend endless hours listening to the rustling leaves and the sound of waterfalls. The moonlight streaming through her garden, the flowers, the meadows, the butterflies cast a spell on her. She lives in San Ramon, California.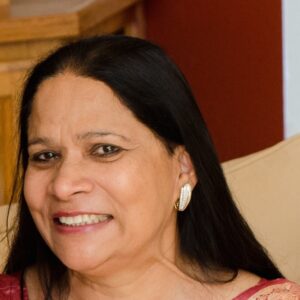 What do you think? Is this a book you could benefit from?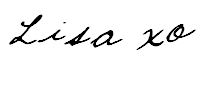 Know someone who would enjoy this post? Share it!
Related Posts: