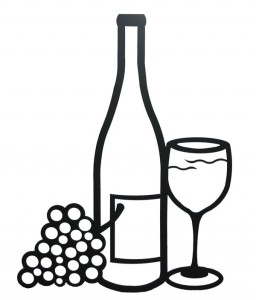 Welcome to the wine diaries, a more personal blog that you will find randomly intermixed with my regular blog topics.  Each diary entry will be paired with appropriate wines.  For the second in this ongoing series, I ruminate on the bonds of our childhood friends.  How do we maintain and/or rekindle them?  How does divorce change our outlook on our past?

LOST AND FOUND FRIENDS
Shortly after my separation from my husband I was holidaying with my children as I did every year at our family's summer cabin close to my hometown.  Upon the visit of a close friend of mine, some bad news was received.  The kind of news that changes the way you see yourself and your place in the world.
I had the privilege of growing up among the beauty of the ocean in a peaceful, if sometimes restless small town.  Many teens dreamed of escaping and still do, to spread their wings in more exciting places.  But in this sleepy town I made some of the best friends of my lifetime.  I highly doubt that the trust, loyalty and genuine hearts of these women will be replaced or found elsewhere.  I share with you a snapshot of our friendship and how we celebrated birthdays circa 1983.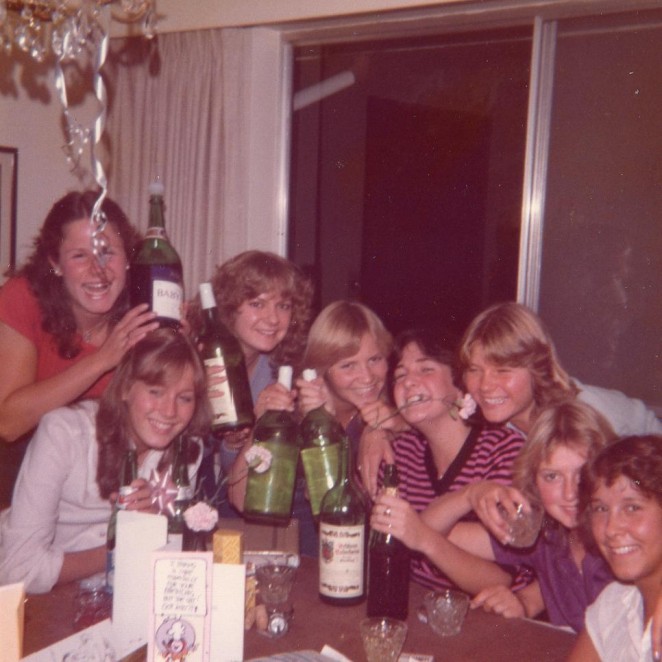 I will leave names out to protect the innocent, but that's me 3rd from right.
We all drifted apart a few years after this photo was taken.  We all seemed to go our separate ways chasing our dreams or sometimes just meandering through parental expectations.  All of us ended up moving away from our sleepy playground but we stayed in touch periodically.  But it became harder to maintain our bonds over the long distance.  Although we briefly rekindled our bonds with laughs and hugs at our 20 year high school reunion one of the girls was noticeably absent.  We asked after her with the 'local kids' and found out some details.  Mainly she didn't feel comfortable attending the reunion.  We left it at that.
Three years later as I said, I was holidaying with my children and upon a visit with one of the girlfriends, came a disturbing message.  K (we'll refer to her) had taken her own life not even a week ago!  At this news my mouth hung open but no words came out.  All I could think of was her ominous absence at our last reunion.  Then memories of her raced through my mind; her struggles in high school,  her questionable choices following graduation, her dabbling in cocaine, her continuing promiscuous habits.   While I was trying to do the 'right' things, her habits and decisions seemed to drive a wedge between us.  In spite of all this, though there were great memories of her especially her younger self.  She was incredibly energetic (some might say she was bordering on manic ).  She was athletic and smart.  She was fun and surprisingly supportive if you needed to talk about something serious.  She seemed wise beyond her years at times and I think that's what drew me to her to begin with.  Sadly, not one of us from the past even knew about the suicide nor the service to mark her death.   We didn't get to say goodbye.
Now in this horrible revelation I realized I had just thought of her the week before for the first time in a long time.  In fact, I stopped in my tracks at the thought of her.  I was standing in my kitchen when her face randomly popped into my head.  But that was little comfort to me today.    Now, we grappled with the sadness that was 'K'.  We asked each other if we should have reached out.  The resounding answer was YES, we should have.  And so we did.  Unfortunately it was too late for 'K' but we promised to take action and contact the rest of the girls we had missed in our lives.  That sparked our reunions that we remain committed to each year. And the crowd seems to be growing as we learn to appreciate each other again.   'K' will be in our hearts and we always think of her at these reunions, lighting a candle in her memory.  I treasure this photo for the way it captures her perfectly and allows us to remember her the way she "was" in happier moments.
The only comfort that can be taken from this story is the value of friendship.  Reach out before a tragedy makes you stop and think about your past.  Divorce and separation will take you back to your young bonds but valuing and maintaining these bonds during marriage is also important.  We can't stop someone from making a fatal decision but we would feel better if we tried.  Is there someone you're thinking about lately?
Wine pairing;  I'm choosing a light, fruity Sauvignon Blanc because 'K' liked sweeter wine  New Zealand's Cloudy Bay Sauvignon Blanc 2011. Something to lighten the mood and make us think of summer days, barefoot on 'K's backyard trampoline.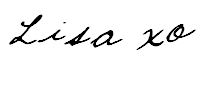 Know someone who would enjoy this post? Share it!
Related Posts: