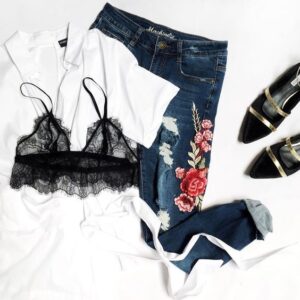 This is not a style blog but it is a Goddess blog. There are no affiliate links just some fun style talk here.
So, April the first full month of spring season kind of came and went quickly for me. there were highs and lows this month which I suppose sped time up.
Today, as I write, I'm suffering a cold that just hit me out of the blue. I was last down with a nasty cold in January so I shouldn't be suffering again so quickly. I'm really bummed by it as it has interfered with my usual energy level.
However, spring came in like a lion whether we were ready for it or not. It is probably going to go out the same way and that's why I'm still wearing sweaters and warm coats for the most part.
Are you ready? Here's a list of recommended spring items for any Goddess;
Swimwear-bathing suit and cover up. Make sure you still love your suit from last year.
White jeans-these really are a wardrobe staple
check the shorts inventory, still fit? I like to have some for the beach and one for what I call 'city' outings (longer and/or dressier).
Tops -one with a pattern, two plain in your favorite spring colors
Shoes situation-do you need new sandals? I've found most wear out quickly so I have to get new ones every other year.  I like to have one pair for walking and one for evening out (not for walking any distance but simply to look pretty). How about a new pair of canvas sneakers?
Sundresses-a timeless, summer Goddess wardrobe staple. Update and add as needed.
Sunglasses-are the ones you have in good shape? I like to have two pair, one to grab off the kitchen table for going out for walks and another for the car.
Lightweight cardigan(s)-navy, cream, white and one bright summery color to accent with white t's and tanks.
Light raincoat. I find these last a long time and I haven't had to buy one for a few years now but important to have one on hand that you can layer a light sweater under.
Under-things-every goddess requires a nice slip-dress for those sun dresses and/or slips for a basic skirt. Also, while looking at lingerie why not look into nude underthings best worn with the light colors of summer. New lighter p.j.'s are always a welcome addition for the hot summer nights.
Incidentally, I just love this floral jacket for spring…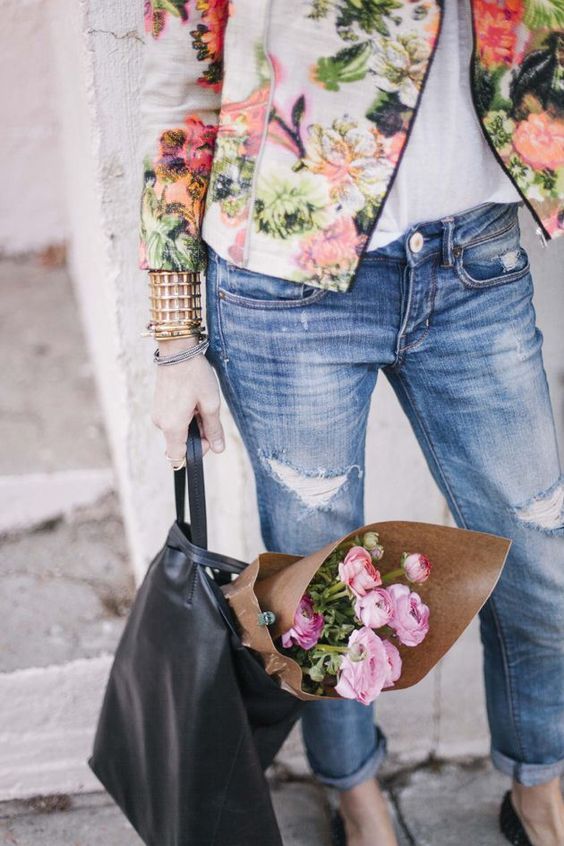 A few weeks ago, I began a bit of a shopping spree (in bits and pieces). I never buy a whole lot at once. Instead, I buy things here and there over a few weeks. The shopping began while my son and daughter were here for a visit and has continued until last weekend when I stopped by a favorite local clothing store.
Here's what I've bought to update my Goddess spring wardrobe;
1. a pair of funky Van's running shoes. which I've been wearing lots and loving the comfort.
2. a soft blue, lightweight cardigan from Banana Republic-should go with everything in my wardrobe…it's been too cold to wear it yet but it will be great for late spring early summer over a camisole or tank top.
3. A bright, floral patterned cotton pullover sweater from Anthropologie (on sale) which I showed off on Instagram last week. This has been perfect for the current weather. It's still cool enough outside to wear but it shouts Spring with its bright pinks, greens, blues and yellows.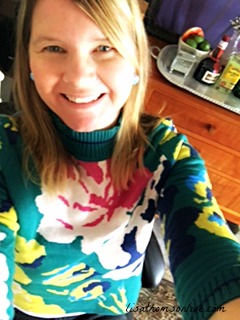 4. A vintage silk scarf from Swish Vintage.
5. A long, hooded denim zip up jacket-loving this as it's perfect for layering and nice to throw on after yoga (as it covers the yoga pants butt). On sale.
6. A light weight black/cream shrug-this will be so versatile and easy to throw over a tank top or tee, for summer evenings. On sale.
Below is a pic I took for you and proof that I am no fashion photographer…
7. New, spring/summer pajamas and nightgown including top that says-"I wake up sparkling"-ha! They all interchange and also happen to go well with my two robes I already own. Bonus points.
8. two T-shirts from Mark's. I love the casual fit so I bought two. Plus, one navy t that has an interesting back opening will be nice for warmer summer days.
9. A lovely Coach handbag that's summery in color tones (olive, pinks and creams). I purchased that at a second hand store. It's in pristine shape.
10. And I should include the few things I bought before our trip to Hawaii. A new bikini as well as two cotton tank tops and one white button up blouse (which I bought in size large to wear as a cover up over the bikini).
What seems to be missing are new pants, shorts or sandals. Luckily, I found cute sandals at the end of last summer for half price, that will be brand new this season. Shorts, well I don't have to buy any new ones this year. I have several and I also cut off jeans that are too short in the leg and voila, denim shorts.
White jeans. Okay, I could probably use a new pair. The last pair I bought, pictured above, I've had for five years. I think they're a little tight in the waist but once they're on for a bit, they loosen up.
In spite of all my talk of florals this (below) is a timeless, season-less look that could work year round…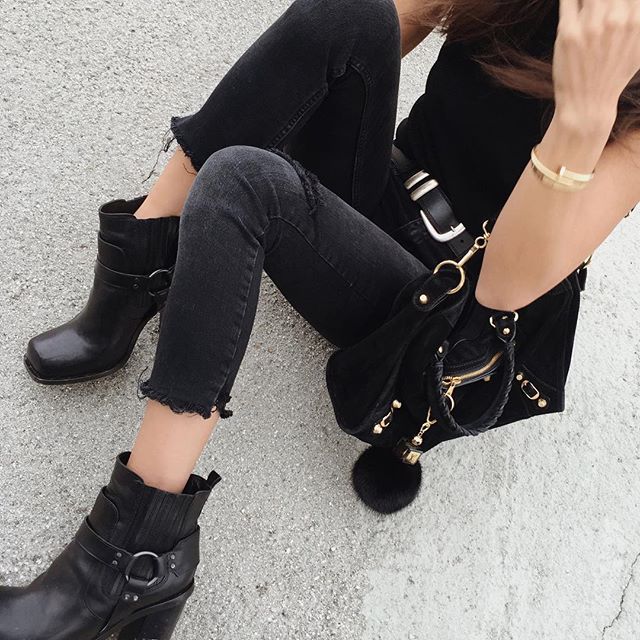 While I've made quite a few new purchases, I will also donate many items to the local thrift store. I like to donate stuff before it's too worn out. I'm donating some t-shirts, jeans, sandals, clutch purse, probably a jacket or two. I'm thinking about donating a still chic, Lululemon jacket. I just feel the need to pare down the jackets in my closet and although I still wear this a bit, it tends to sit on the hanger more than the others.
So, what else does a Goddess need for spring? Do you donate your clothes and if so, do you have a hard time choosing what to let go?
For more style inspo come Pin with me at MyStyle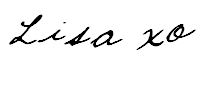 Know someone who would enjoy this post? Share it!
Related Posts: