]
It's hard being a divorcee. We're a ONE in a world of twos. It's downright lonely. Eventually,we want to get our toes in the water and begin dating again. We go onto dating sites with hopes of love. It's only natural. Next thing you know, we're in a relationship again. It's wonderful. It's exciting and we feel like a teenager again. We're getting a second chance!
Inevitably, sometimes sooner rather than later the conversation of marriage comes up. Let's face it, no one wants to be alone. Society thinks we're damaged goods if we're still on our own years after our divorce. There is an expectation that the divorced will eventually re-marry and live happily again…in spite of the fact that the stats prove that second marriages are even more likely to end in divorce!
There is a pressure to find a new spouse and show the world we're not damaged goods. "It wasn't me…" It's not just pressure we put on ourselves though, family and friends will start asking too. "When are you guys getting married?" As if that's the next logical step.
No. Just, NO.
Re-marriage is not for everyone but before I go into that tirade; I want to cover 5 excuses people use to justify re-marrying their current boyfriend (girlfriend) or partner and why you shouldn't use any one of these. If you find yourself and your partner saying any of these things in discussing marriage—re-consider your decision.
Don't Re-Marry for ANY of these 5 Reasons;
1. To Save money– I hear this a lot. We have two houses and it just doesn't make sense since he's at my place all the time. First, tell him to go home…second there are worse things to squander than money like your privacy, freedom, personal space and your children's privacy and space. Starting a second marriage to reduce your budget can lead to no good place…re-consider.
2. To bridge a long distance relationship. This is a tough one but doesn't it make more sense for someone to relocate first and make sure the relationship can handle being in the same city before making a lifetime commitment? Take it in baby steps.
3. His kids (your kids) need a female (male) role model because their bio mom (dad) is ________ (dead, incompetent, an addict, an idiot—whatever). Be very, very careful on this one. I've had many women contact me with this question "His kids love me and I adore them, he wants to marry me but…." and then they list a few things that are wrong with the relationship. NO. You can have a relationship with his kids without a marriage certificate. What's the rush?
4. Fear. Fear of the future. Fear of financial security. Fear of being alone. Fear of losing him. None of these reasons are enough and we both know that. The trick is identifying that fear before we make a decision for the wrong reason. You will be ok. If he's worth his salt he will wait for you. No man pressures you to say yes, if he is worth being with—Golden Rule.
5. If something happens and I'm in the hospital, we'll be family and he'll be next of kin. Seriously? You're going to hinge the rest of your life with someone in case they or you go into hospital? NO. This is similar to the we should all have the last name when we travel idea. It's not important enough reason to say yes.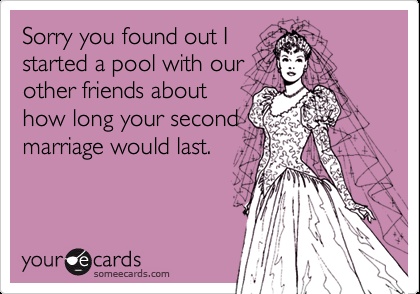 You can see how these become excuses to 'move forward' and re-marry. They're not the right reasons though and in fact, you might think you're moving forward but you risk moving backward. If you rush into a second marriage for the wrong reasons it is more likely you will bring your left over baggage from the first one. That will also interfere with your chances of making this one stick. Be careful about getting taken up with the event itself. The temptation and excitement of a second 'honeymoon' destination can blind our good judgment. Besides, you can still have a honeymoon without the wedding, right? We don't need a wedding as an excuse to plan a romantic vacation without children.
Instead of finding reasons to re-marry, think about why you shouldn't. This is the time to do some critical thinking. What could possibly go wrong? How will it affect your children? How will it improve my life? Why do I want this?
We tend to forget that we can have a perfectly wonderful relationship without living under the same roof. A relationship can move forward without the lifetime commitment. Often our kids benefit from our restraint.
All things considered, there may be a time when remarriage is the right thing to do. Love, friendship and respect should top the list of reasons to take the plunge a second time. By the way, I know some happily re-married people, so it works out for many! Do you plan to re-marry? Whether you're divorced, married or re-married I would love to hear your thoughts.
Leave a comment, I LOVE 'em!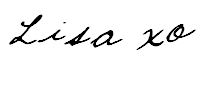 Know someone who would enjoy this post? Share it!
Related Posts: