"Just get up, put your lipstick on and get out there."  This was the advice given to a friend of mine by her grandmother when she was going through her divorce.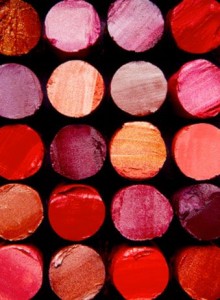 So many pretty colors to choose from…
Grandma gave this advice for different situations, not just during divorce.  She gave herself this advice when her husband passed away.  The devastating loss had her feeling hopeless until she told herself  "Get off your ass, and put your lipstick on…" In other words,  get up and 'Just Do It'.  Did Nike steal this grandmother's mantra (minus the lipstick)?  It seems Liz Taylor would agree.  The drink is optional, of course…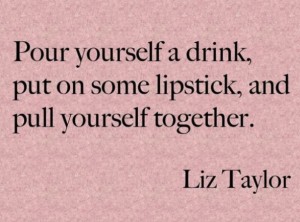 It sounds like trite advice when you can't get out of bed…but sometimes the simplest mantra can get us going and get us thinking in a new way.  My friend said she thought twice about feeling sorry for herself when her grandmother's words went through her mind.  She did go and get a new lipstick right away so she had a fresh color to perk her up.  Drew Barrymore in the perfect red…
Or Cameron Diaz pretty in Pink?
If you're feeling overwhelmed or feeling down get up, get in the shower, put your lipstick on and get going…
After you put the lipstick on, is there one small thing you can do today to make tomorrow better?  What is the one thing you can accomplish today that will get you a little closer to your goal or a little closer to concluding your divorce? Because….
With one step at a time it will come to an end, I promise. there is light at the end of the tunnel.
So, will it be a bold red like Drew's or a bright pink like Cameron's? Maybe soft pink, peachy or deep mauve…  just do it…put that lipstick on and get out there! What is your mantra?
Leave a comment, I LOVE 'em!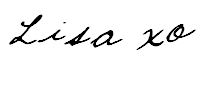 Know someone who would enjoy this post? Share it!
Related Posts: