Illuminating Blogger Award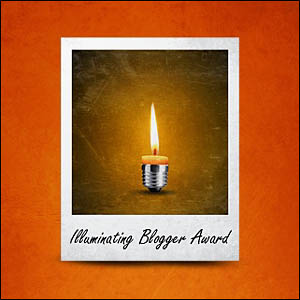 Hello, everyone.  I'm very pleased to be awarded the Illuminating Blogger Award.  The Award is given to bloggers who provide illuminating content so I'm honored to have received it from CJ at http://foodstoriesblog.com/  Stop by her site for some inspiring recipes and food stories.  The awards page will explain more about this award if you are interested. http://foodstoriesblog.com/illuminating-blogger-award/
I hope I am following the award etiquette here; I am to share one random thing about myself and I am to pass on the award to three other bloggers whose work I find enlightening and illuminating.  I just threw in enlightening because I like the word.
Random fact about me:  I write poetry and some of it is horrible
My nominees for the Illuminating Blogger award are the following;
Marcy L's  tootimidandsqueamish  Her blog posts are so full of energy and she is always finding new and exciting things to report on
Lee Brochsten's postdivorcechronicles  Her blog is terrific inspiration and advice if you are going through a divorce
Cindy Brown's everydayunderwear  Her blog is funny and charming as she reports on 'life' stuff.  Her woohoo Wednesdays always lift my spirits.
Thanks again, to CJ for bestowing this award to me!

Share this article on your favorite social network