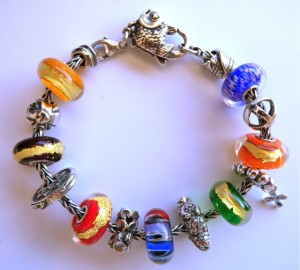 Not long ago, the word Chakra was foreign to me. How did it come up? Well, the store I worked in sold jewelry including troll beads. (That's how my bead addiction started). What do troll beads have to do with the Chakras? There is a troll bead to represent each Chakra. I remember ladies coming in and slowly collecting all 7 beads. They insisted their bracelet wouldn't be balanced without all of them. I was bewildered.
Chakras, An Ancient Easter Philosophy
But lately, I have been learning more about the Chakras and the importance of 'opening' and balancing them. I've been practicing yoga for 2 ½ years now and through this have been using meditation and poses to ignite the Chakras. I am a beginner on the subject so I thoroughly enjoyed doing a bit of research for you, my dear reader.
It may all sound silly (I wasn't sure what to believe when I first heard the word) but when you consider that the Chakras are an ancient Eastern philosophy, you have to give it some credence. Simply put, it is the belief that the body is made up of sections of energy and if those energies don't flow freely, our emotional health suffers. Those Eastern philosophers seem to have figured out this 'mind/body' energy connection long before our Western culture. While we're running around like headless chickens, the people of the Eastern cultures are sitting cross legged, calmly humming "ohmmmmmmm".
Okay, it's not really that simple. However, I think it worthwhile to consider the Chakras in healing our emotional state of mind especially during stressful events. I wish I learned more about this during my divorce, to better prepare emotionally.
It's true that we lose or gain weight, get sick, drink more alcohol and sleep less during divorce (or any stressful event). So, I thought it might benefit us to look at simple ways to maintain balanced Chakras thereby improving our emotional health.
"According to Buddhist/Hindu teaching, all of the Chakras should contribute to a human's well-being. Our instincts would join forces with our feelings and thinking. Some of our chakras are usually not open all the way (meaning, they operate just like when you were born), but some are over-active, or even near closed. If the chakras are not balanced, peace with the self cannot be achieved."-WikiHow
Essentially, each Chakra represents a section of our body and along with that a color energy and associated gland.
Cheat Sheet on the 7 Chakras:
1. Root Chakra– Base of spine
The root chakra is associated with being physically aware and grounded. Physical activity of almost any kind where feet are on the ground and give you the feeling of stability and strength will help to keep this chakra flowing. When this chakra is open, you feel comfortable in most situations, stable and secure. It is associated with the basic needs and survival.
Color association-Red
gland association-Adrenal
Open it by; meditating, seeing red, dancing, yoga, walking, being bare feet on the grass, get a pedicure, take a shower, hot bath or steam. Any physical grooming and caring for your body will also open your root chakra.
Sacral Chakra-located below your naval through to perineum
Sacral Chakra is related to sexual well being, passion, interaction and creativity. When this chakra is open we feel out going, confident in our creative expression and sexuality.
Color association-orange
Gland association-gonad
Open it by; yoga, zumba, pelvic exercise, sketching, painting or any creative problem solving exercises, eat oranges, eat nuts, wear orange clothing or orange stones in jewelry
Solar Plexus Chakra– 3 inches above the navel
The Solar Plexus Chakra is associated with self confidence, self esteem, power, assertion and control. When it's open we feel confident about our decisions and positive about our accomplishments. We feel in control. We hush the inner critic.
Color association-yellow
gland association-pancreas
How to open it; boat pose, abdominal and core exercise, dance, eat grains, drink chamomile or peppermint tea, wear yellow or yellow jewelry, lemon scented candles or oils
Heart Chakra– located at the heart
This chakra represents energy to love, be open to giving love, compassion and forgiveness. If it is under active, we are cold and unfriendly, or the opposite if it is overactive and we become suffocating and insecure in our relationships.
Color association-green
Gland association-thymus
How to open it; give more love (children, pets, spouse, family, friends), random acts of kindness, heart opening yoga poses, be vulnerable in order to receive love, eat greens and drink green tea, wear green, green apple scents
5, Throat Chakra-throat area
This chakra is all about voice. Expression of our voice through written or verbal communication. Listening is also part of a balanced, throat chakra.
Color association-light blue
Gland association-thyroid
How to open it; meditation, word associate in a journal, paint, decorate, incorporate light blue into your décor ( I love light blue in a bedroom), practice breathing techniques, wear light blue, clothing or jewelry
Third eye Chakra-the middle of the forehead between the eyebrows
Third eye deals with insight and seeing the big picture. If it's open we can decipher truth from fiction, dream yet remain focused on goals. Also, when open clairvoyance is excellent and we are open to receiving wisdom.
Color association-Indigo
Gland association-Pituitary
How to open it; forward folds in yoga, child's pose, meditation, eat blueberries, chocolate, lavender tea.
Crown Charkra-at the top of the head
This is considered the most spiritual Chakra. If it's open, you see and understand your connection to the world. You let go of ingrained beliefs and prejudices. We are mindful and live in the present moment and our intuition is sharp.
Color association-purple
Gland association-Pineal
How to open it; outdoor exercise, fresh air, i.e. being by the ocean, running, hiking, meditating, wear dark purple or lavender and even white and jewels with diamonds or sapphires. This chakra doesn't benefit from healing foods according to mindbodygreen.
How Can We Heal?
The common belief is that if one chakra is under active or closed, it can throw all the chakra energies out of balance because some are over compensating. To find balance it's important to start at the Root chakra because it's the foundation. Was there a time you didn't feel grounded or rooted? Maybe you felt discombobulated (don't you love that word?). That's exactly when we need to focus on our root chakra.
When we had a fire and had to evacuate from our apartment and consequently, find a new place to live, I felt absolutely displaced. I didn't even have my own pillow for two months. We stayed in hotels and motels. We had no access to our belongings for a week. When we were finally able to access our apartment we had to wear masks because the smoke was toxic. The smell and the sight of my home covered in soot, and plants dying was a visceral and sad experience. It was a time to re-evaluate possessions, find a new place to live and try to re-establish my roots.
Would it surprise you to learn that when we finally moved into our new apartment and I had to replace some of our lost items, I chose a red and green color scheme? I was puzzled by my own intuition to choose green to accent with the reds in my kitchen. Normally, red and green is associated with Christmas so what the heck was I thinking? In the past I used blues and pinks but red mixed with green? Weird. Then my friend explained to me that I was working subconsciously on my root chakra. I was in survival mode. Of course this made sense. I felt like I was floating around for months without a place to call home.Thank you Cathy 🙂 for sparking my interest in the chakras.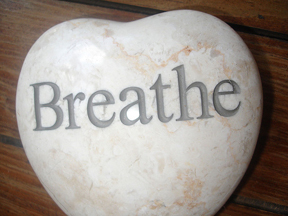 I also bought more green clothing that autumn and ironically, I was going through difficult times in family relationships. Apparently, the heart knows what it needs. I was intuitively opening my heart chakra.
Incidentally that's when I took up yoga for the first time in my entire life. I walked past the yoga studio on the main street of our little town and I was physically drawn to it. I stopped in front of it a few times to look inside and see people in warrior poses. I felt a longing to join. Interesting how the universe pushes you toward what you need at the right time.
Summary
Contemplate your chakra energies and work on the one associated with the area you're struggling with. Do some of the exercises related to that area of the body. Also, don't underestimate the emotional power of color associated with the specific chakra. Eating colorful foods, wearing and decorating in your chakra colors, as well as using aromatherapy can have a powerful impact. It begins with intuition (as in my case) then triggers our thoughts until we finally take action.
Even if you don't believe in the power of chakra energies in our body, the very act of thinking about our emotional health, then taking some action, is bound to cause some improvements. You can't help but feel better for trying. Now, I'm going to get some of those Chakra beads for my bracelet!
resource links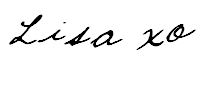 Know someone who would enjoy this post? Share it!
Related Posts: