Recently I had one of those weird days. You know the kind that starts out perfect.The sun was shining when I woke up and sipping on my first coffee of the day, I felt good. It's the little things in life that give us pleasure, right? Yes, but it was all a ruse. It was a big, fat lie.
As I was leaving for my yoga class, jack hammering started in the apartment (above? below? beside? across?). It was everywhere and it sounded like it was right in my kitchen. That should have been my first  sign.
After yoga class I felt utterly satisfied. And so my day continued except Screech! Put on the brakes. As I drove to my next plan for the day, there was an inexplicable traffic jam. The road was impassable.
Confession: My plan was to shop while I had my car washed inside and out. I know, it sounds kind of indulgent but I highly recommend it over scrubbing it yourself. So, due to the traffic jam I turned around to head back a little disappointed. However, I quickly thought of a plan 'B'. We all know that Plan 'B' isn't as good as plan 'A' but it will do.
That's how I found myself at my neighborhood Co-op gas station/car wash. Plan 'B'. I bought some gas, punched in 'yes' for the car wash, the beginning of my demise. The deluxe wash, yes I thought, get the top level wash—why not? Your car deserves it.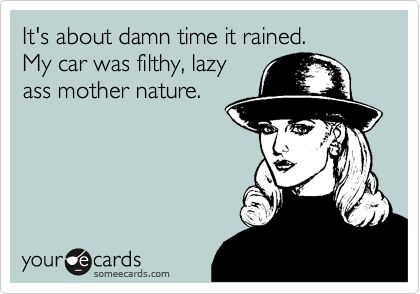 As I waited in line for the wash I received an email from a young lady who specializes in word press websites.  She informed me that there were many things wrong with my website. Mostly, she wondered how did anyone find my site? It was not SEO ranked…blah, blah…What? I have an 'all in one SEO package'. I use key words, tags, meta stuff. Anyway, my site was a hot mess but she had succeeded in backing it up. My anxiety level was rising as I entered the wash.
I put my phone down so I could pay attention to the instructions that lit up inside the wash. Soon I was encased in noisy sprays of water, then the soap suds coated my baby. Ahhh, this was long overdue.
When I drove out of the dryer feeling smug and fresh, I pulled over to the vacuum. When I got out of my car soap dripped in from the door and I couldn't help but notice that my car looked almost exactly the same as when I went in. No kidding.
Left over soap was dripping off the roof, hood and in the door creases. Luckily, I had a semi clean towel in my trunk to wipe it down.
I couldn't put coins in the vacuum, it only took tokens. So, since I had to walk back over to the gas station I thought I'll take the towel full of soap and dirt and show an employee  because I've seriously never been through such a useless car wash.  Might as well have shut it down for all the good it's doing.  I was going to tell the next person with a name tag that very thing (as if they would care).
"Can I help you?" Asked a lady of indefinite age with eyes like raisins and cheeks like a cinnamon bun.
"Yes" I smiled "I'd like to vacuum my car. Can I buy tokens from you?" I started out with the soft approach.
"Yes" She sauntered behind the counter, up to the till getting ready to take more money from me.
"By the way. I just came out of the car wash and my car still had soap suds and dirt on it. So, I think maybe…"
"It doesn't wash off road grime." The bun lady interrupted me with confidence.
"What does it do then?" I asked innocently.
"Pardon me?" Bun lady looked confused.
"Well, what does it do if it doesn't take road grime off…" I lifted the towel up to show her the dirt and soap but she didn't even glance at it. Apparently all the customers come in with dirty towels and she'd seen her fair share. Instead, she interrupted me again.
"You have to scrub it by hand first." She said looking at me like I was simply the dumbest person on earth.
"Oh. So, wash it first by hand then pay this place twelve bucks to go through the wash?" I asked in bewilderment. This wasn't going so well.
"Yes. It doesn't remove grime." She explained to stupid me.
I wanted to say What about the soap left over? Your rinse cycle is broken too. Instead, the voice inside my head asked me What are you doing? Leave the poor bun lady alone. She probably doesn't earn much money. I doubt she dreamed she'd become a gas station/car wash monitor when she grew up.
So I said:
"I'll get some vacuum tokens." And salvage what I can of this complete waste of time inside my head.
"Your membership number?" She asked, curtly.
Inside my head; Seriously? If I had a membership number here would I be surprised by the shitty car wash?

"I'm not a member." I answered. Suddenly I felt a twinge of…was that shame? You don't belong here said inside voice. I wasn't sure if it was because I couldn't afford it or if I was too well off to need it. Either way I felt slightly inadequate for a moment.
I walked away with my tokens and dirty towel. I couldn't leave well enough alone though.
I said on the way out "That was the worst car wash I've been in." She stared blankly. So I continued "I think there's something wrong with it as in: You should see about fixing it" I emphasized the last two words with a higher octave in my voice, almost a question.
I stopped just short of asking for my $12 back not that she would have obliged. She didn't have a fuck left to give but I continued in hopes of getting at least an apology.
"I didn't have high hopes to begin with but…wow…" I got nothing.
The voice inside my head came back. Just stop, she said. Walk away. You're better than this. Don't be like George on Seinfeld. Be more like Elaine. Oh, good point I agreed with my inside voice. Elaine would have smiled and clucked her tongue on the roof of her mouth and stared down the bun lady without a word where George would have whined about his $12. But because it's the real world, I walked out as myself; a disgruntled customer carrying a dirty towel and some tokens.
At least it didn't turn out like this…

The vacuum compensated for the car wash though. It was so powerful it sucked up my Lulu Lemon head band my daughter bought me for Christmas. That's what you get for bothering the bun lady, inside voice reminded me.
It's just, really? There are some things we want to count on and going through a car wash and coming out with a clean car is one of them. With all the things in life that we can't count on do we need to add the car wash to the list? It's the little things that make us happy and it's also the little things that can drive us crazy. That's true about relationships too but lets not go there.
So, I took my dirty car home to my noisy apartment and tried to fix my website.
In the end, it all added up to a wacky, weird day that made me question the whole universe and the meaning of life. How does a malfunctioning car wash cause me to ponder the meaning of life? I don't know! (that was my inside voice).
Have you been a disgruntled customer lately? Do you listen to the voice inside your head or just say what you really think? Have you had a day go awry and then questioned the whole meaning of life? Please don't tell me it's just me…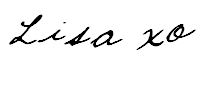 Know someone who would enjoy this post? Share it!
Related Posts: