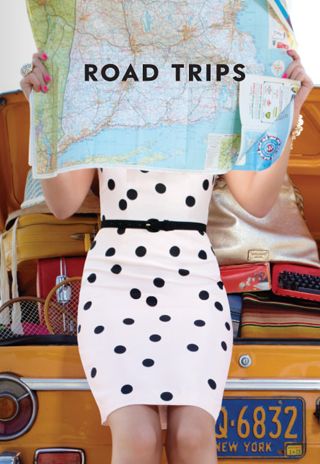 How are you? As I mentioned in my last post, I was away for a few weeks. My Beau and I had this trip planned for a while and we were really looking forward to it. The last extended holiday we had was in 2012, almost 4 years ago. So, it was time for a nice break and a real holiday. Of course, we go on short road trips periodically which are really fun. However, a short road trip isn't a holiday in the true sense of the word because, well, you're back all too soon.
So, we packed up and were ready to go before bed Saturday night. Our flight left early Sunday morning, February 21st. We flew to L.A. then on to New Orleans, Louisiana. An exciting city for so many reasons. On our first night there, we stayed up late and you could say we had a really fun night. The next day we walked around the French Quarter taking in the history and beauty that makes this city unique. It started out great. It was a little cool and overcast. We stopped into a tiny jazz bar for a refreshment in the afternoon. It was all set up for the Jazz band that would play later that night. I so badly wanted to go back in the evening for the band and the general atmosphere but it would have to wait.
After we had lunch at a nondescript seafood restaurant (that served alligator) we headed out into the pouring rain. We decided to go back to the hotel for a rest but we were soaked two blocks in. If you've read any Ann Rice books then you know it doesn't rain in New Orleans. It pours.
I don't know if it was getting caught in the rain, or if someone was incubating a virus before we left but my Beau woke up the next day with a cough.
Me: "Are you getting a cold?"
Him: "No." cough, cough, cough.
He tried to ignore it. So, we hopped on the Trolley and took a self guided tour of the cemetery. We got caught in a downpour again. Duh, I forgot the umbrella I bought the day before. Well, the sun was almost shining when we left the hotel.
Later that night he came down with a horrible cold/flu virus.
Me: "Do you want me to get you anything?"
Him: "No."
Me: "Are you okay?"
Him: "No."
Do all men answer in one syllable words when they're sick?
I happened to get one sunny, cool day to explore before I got sick…and began answering in one syllable words.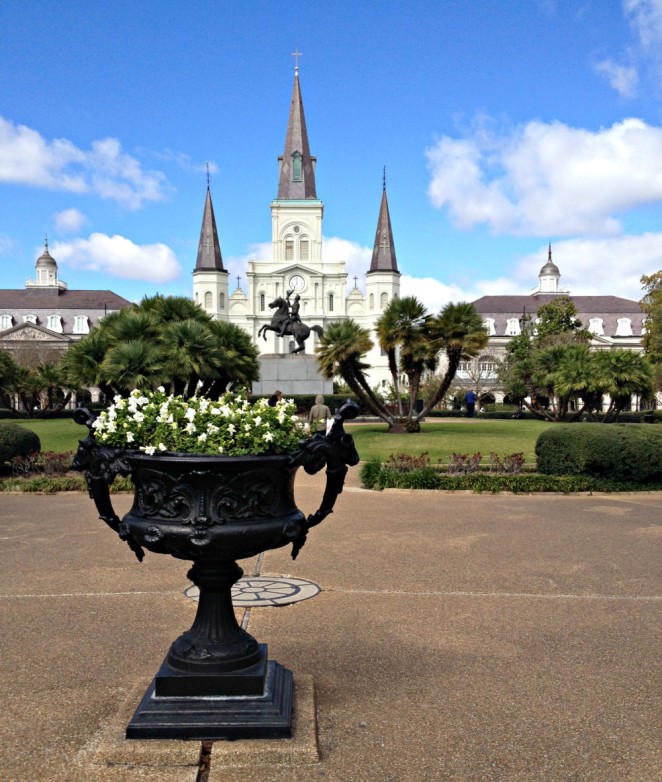 Jackson Square, NO.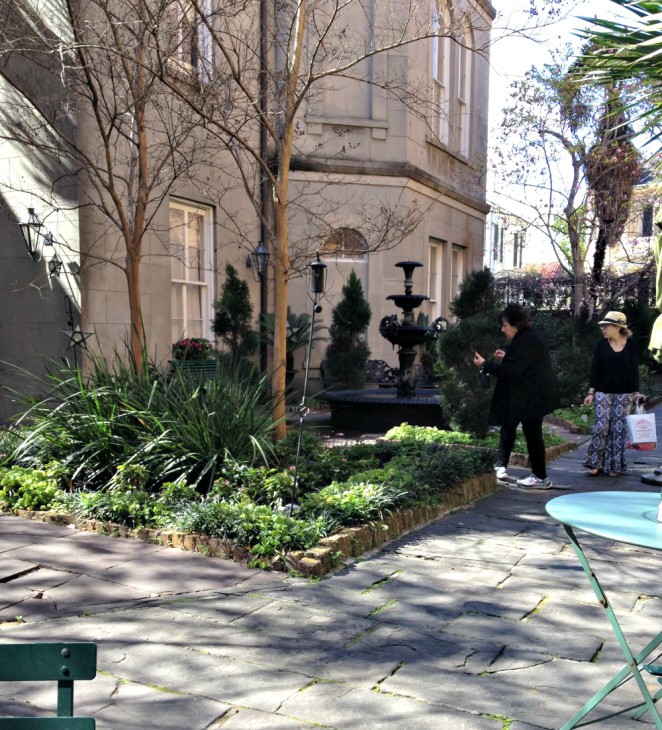 I ate lunch in this pretty courtyard off of Royal Street.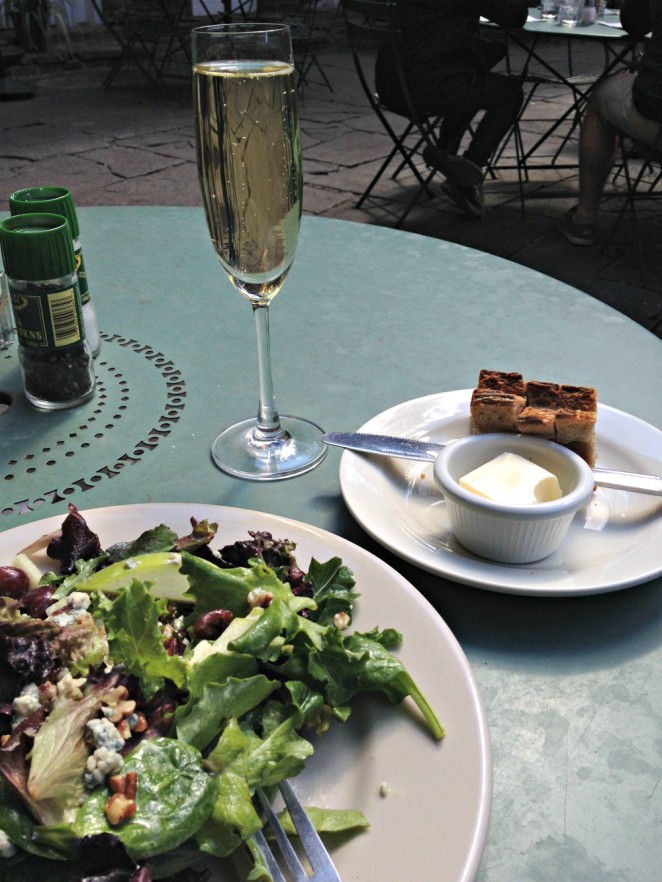 They really like their blue cheese and pecans in the South. They put that s**t on everything. This salad was a much needed light and fresh dish after all the Southern, deep fried food.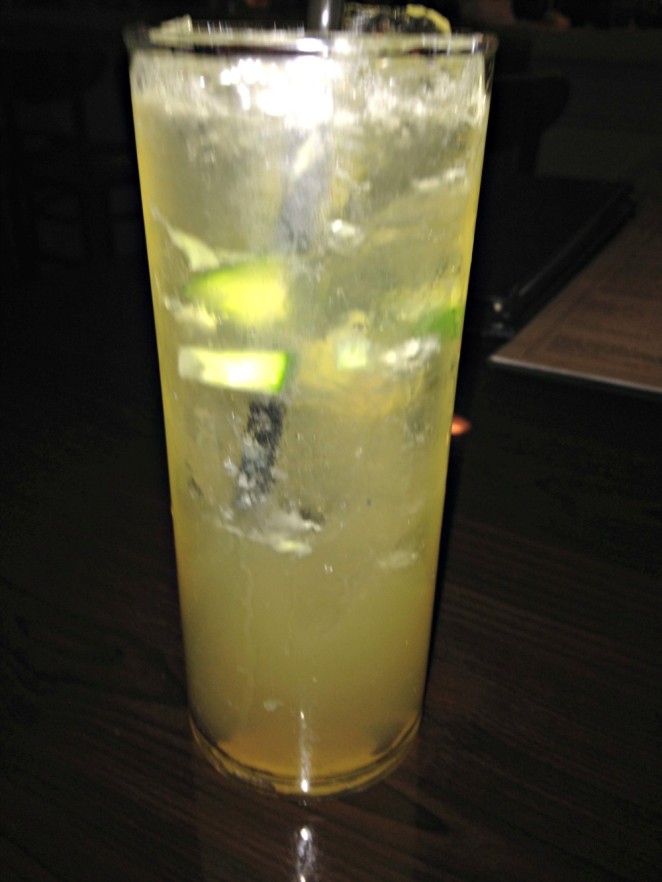 This drink was really tasty with a big kick. Not even sure what was in it but probably bourbon.
Meanwhile, back at the hotel. Our window didn't even open so no fresh air was circulating. Of course, I got the same virus a day later. We stayed in bed and slept the whole next day and the day after. We finally ventured out for some fresh air and cold medicines.  Only in New Orleans can you buy medicine at the pharmacy with a full band playing right outside the door. Just another reminder of the good time we were missing out on.
I never did make it back to that jazz bar.
On day 3 we had to check out and the plan was to rent a car and drive along the coast over to Florida and up to Georgia or South Carolina. At this point, we debated about booking a flight home and skipping the rest of the trip. We almost gave up. The only thing stopping us from flying home was the thought of spreading our germs all over. It would be irresponsible, I said
Luckily we continued on as that was when the real holiday began. Our health improved gradually, as I knew it would. We rented a car and drove out to the Plantations. We visited the Whitney Plantation, which is the first slave museum. I read about it in NY Times article and desperately wanted to go. That was a year ago. So, it was a long time coming. I was quite sick during the mostly outdoor tour. I didn't take many pictures and now I regret it.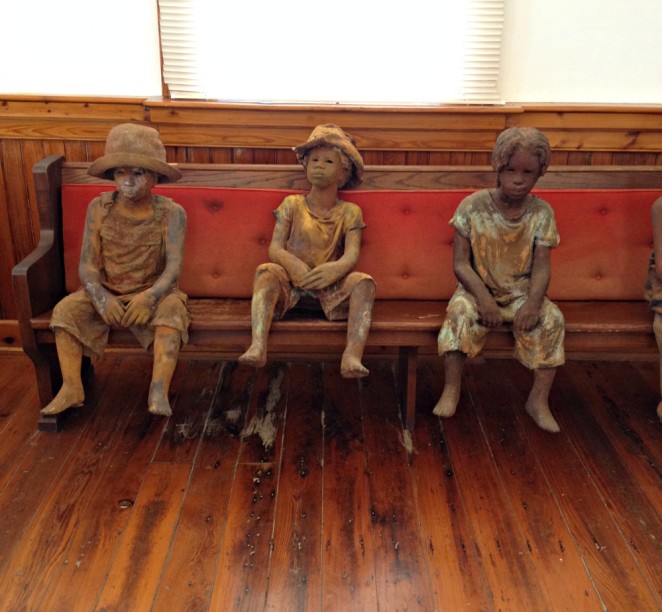 These sculptures were set throughout the church representing children of the slaves. It was an amazing property with memorials for each and every slave, including quotes from interviews of the children of the slaves engraved on each memorial. It left a lasting impression. I have to share the photo from the NY Times article as it does justice to these beautiful sculptures…The man on the right is John Cummings, owner and the left is Ibrahima Seck, Director of research.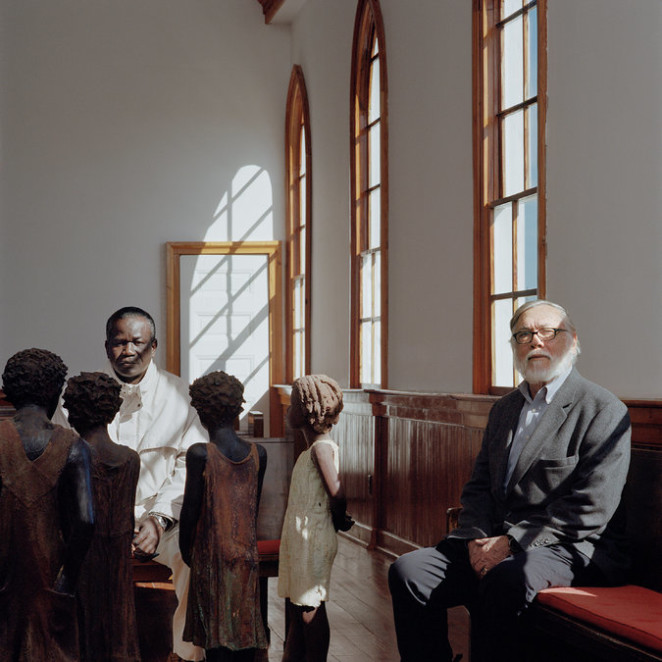 We spent a few days on the beach in Pensacola. It was gorgeous. Not hot but mild and the Vitamin D really helped us get over our colds. We gradually weaned ourselves off the cold medicines.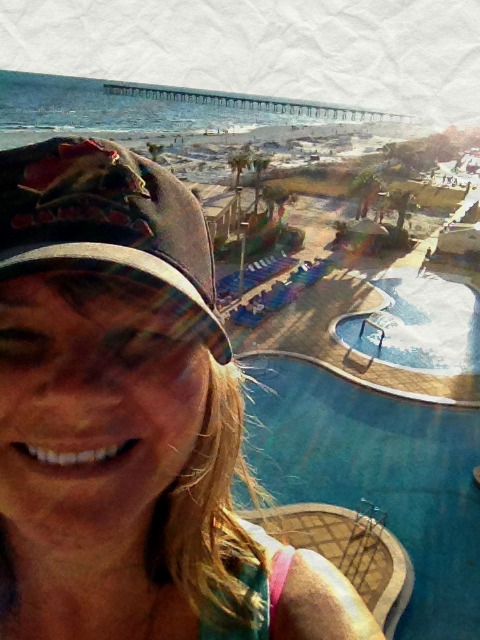 Finally, a room with a balcony and some fresh air! I'm still sick though and you can tell by the pic. I wanted this to look like a post card so I added the paper filter.
We drove from  Pensacola to Tallahassee in one afternoon. We got there in time to check in to a nice decent hotel and grab a bite to eat. Next day, we drove to Jacksonville (just south of) to visit a dear friend of mine. She moved there last year from Key West. We went to school together and she is one of my oldest friends. It was my first visit to Florida and to see her in her own habitat was really special (she always  comes out here but rarely do we get a chance to visit her). Her home is gorgeous! Our night with her and her family was a highlight of the trip. It kind of looks like I have a space ship coming out of my head or maybe it's my halo? Oh. No. It's the kitchen light.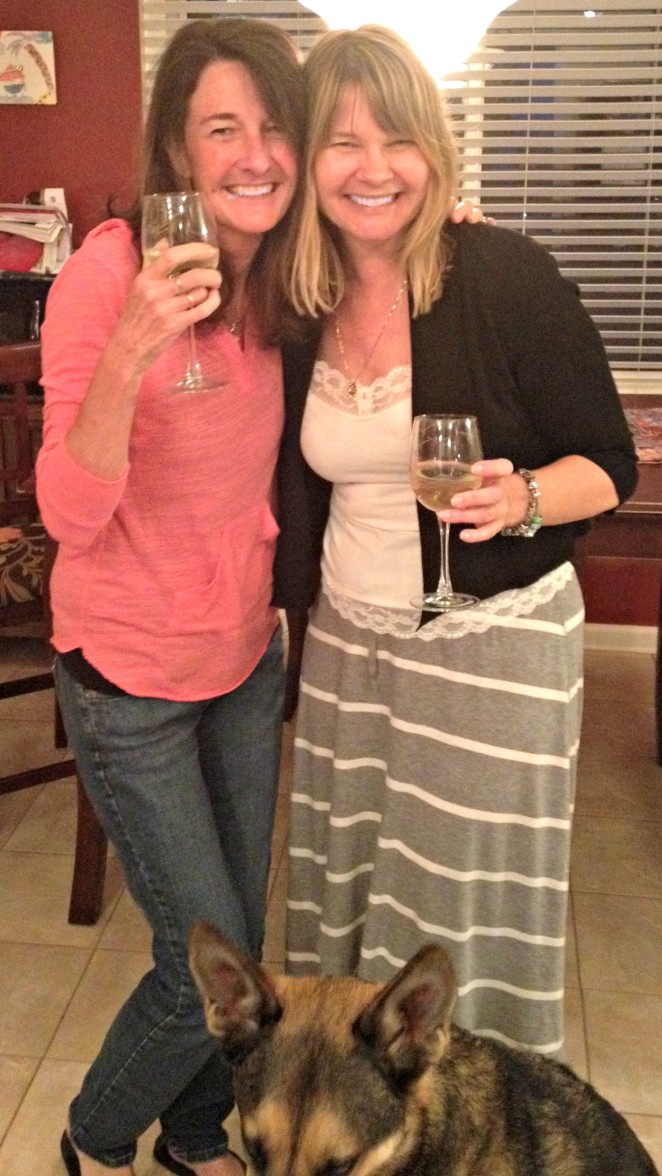 I'm sorry, Magic that you weren't looking at the camera.
Next day we took a tour of St. Augustine, Florida which is the oldest city in the United States. So, we had a look see at the Fort built in 1500's.  The town was a bit touristy but certainly really cool to see. Later we said our goodbyes and drove onward to Georgia. Destination: Savannah.
What a gorgeous city Savannah is. We had two nights there and stayed at a B 'n B in the heart of the Historic District. The azaleas were in bloom and the food was amazing. By this point we could taste food and enjoy meals.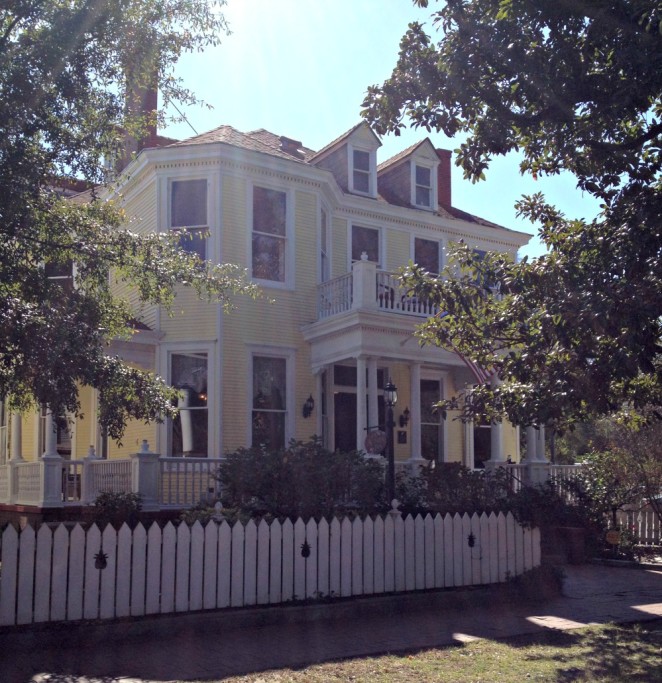 The Azalea Inn at Savannah, Georgia. This is the B'N B we stayed at. It was really beautiful and was built in 1790's.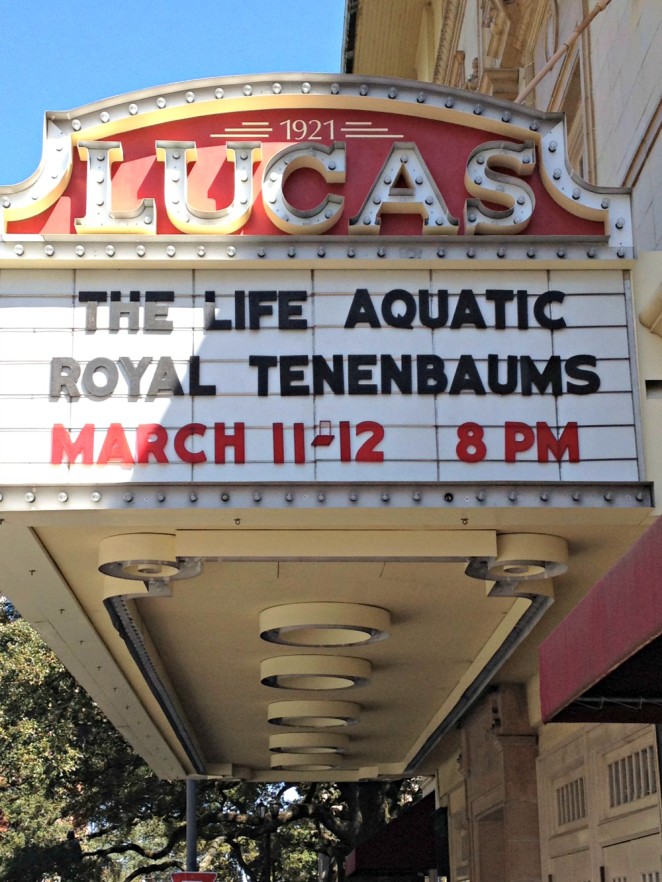 This theater, in the historic district, I had to take a pic of and send to my son. Not only is it his namesake, but the films are two of his favorites!
So, guys, that was our trip. In a nutshell it was a drag and it was fun. The moral of this story? Expect the unexpected. Adapt. Be flexible. Stay positive. Cough, cough. Sniff, sniff. Things don't always turn out as we imagine. Sometimes looking forward to something is better than the something.
Next week, I'll be back to regular programming beginning with '10 Things I Wish I Knew During My Divorce'
Tell me, have you ever been sick on holiday or just had one of those trips where best laid plans went awry?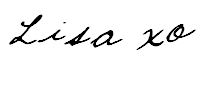 Know someone who would enjoy this post? Share it!
Related Posts: