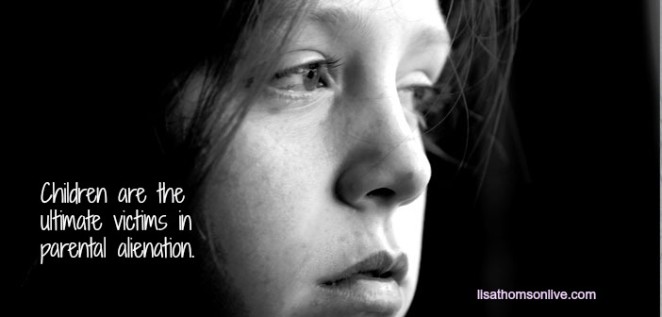 There are so many parents and children suffering out there from Parental Alienation. It's tragic. I know this because my you tube video on the subject has too many responses…too many people are relating to this issue. Today, let's take a look at what's going on behind the scenes. What motivates the alienator to abuse their children by disapproving of their relationship with the target parent. Hint: Narcissism and PAS are often found in the same scenario…but not always.
PAS is one of the Narcissist's favorite strategies to take control of the children during divorce. Many of the narcissist's actions are based on fear, insecurity and past trauma. Parental Alienation is no different. Unfortunately, the person they are attempting to pay back (you, me) is not technically the one who ends up damaged. Hurt? Yes, it hurts like hell to be on the receiving end of such bitter and unnecessary disregard. Damaged? No, we aren't the ones who end up damaged.
The real victims are the children.
Often, they aren't mature enough to manage the behaviors and emotions.
You can imagine the confusion your child experiences. Why is dad angry and disappointed with me if I have nothing negative to say about mom? They soon learn that to share with their father, their pleasure and (normal) relationship with their mother is a big no-no. They learn that to agree with father and tell negatives to earn his approval. They soon become guarded and lose their innocent candor.
Your children learn that in order to get love from their father (or mother, if she's the alienator), they must agree with their constant complaints of their other parent. While the alienating parent is washing out the brain of the child's good memories of the target parent, he is replacing them with negatives, including lies. It doesn't take long for the child to believe these lies and misrepresented facts as the new truth. It's their new reality.
That said, I've explained the basic premise of PA in an earlier post, but now I will try to explore the actual reasons for it. I use the father as an example here, but of course, mothers can play this game equally well.
Before I get into that I want to share a personal story:
Early in my separation, my ex and I had agreed on shared parenting.  One evening, I made a routine phone call to my children. It was a call I would normally make once a week to double check their return time (to my house etc). What happened was strange. My son was a little bit distant on the telephone. My daughter was even more so (she is two years older than my son who was 11 at the time). In any event, the call would be ominous.
They were due to return to my house in a few days but my son asked if it was okay to stay with his dad because dad wanted to take them on a ski trip. These requests for them to stay with their dad longer than the shared parenting schedule we had set was becoming annoyingly typical.
I said no, I'm really sorry but I'm really looking forward to seeing you and I don't want to change plans at the last minute. It's really important to me that you and your sister come to my house on the scheduled time. " I finished with something like "Maybe your dad can take you on the next weekend, during your time with him?" I was playing the bad guy, yet again in not allowing them to stay with their dad for whatever special event he had planned for them. If I agreed to everything though, I wouldn't see my kids at all.
We were on a land line. Do you remember those? Well, this is where the funny thing happened. After we said our goodbyes, my phone rang a few minutes later. I picked up but no one was there. It was only background noise. In a split second I realized that it was the noise of my ex and my kids. I guess my son hadn't disconnected the call completely, hence why my phone rang me back. Then I heard my ex-husband—talking about me. Not in a nice way either. He was telling the kids that they didn't 'need' to go to my house and that it was 'okay' to stay with him. He also told them that their mom 'didn't care' if they stayed with him longer….I was listening like a fly on the wall, holding my breath…
My son in his boyish, not yet broken, 11 year old voice was begging and pleading with his dad to let them go to mom's. He explained to his dad that mom was looking forward to seeing them. Mom would be sad if they didn't go to her house. His dad interrupted him and told him that his mom 'didn't know what she wanted' and that she 'changed her mind all the time'. I could hear my son's voice peaking in pitch with his growing anxiety. I am quoting these because I wrote it all down the minute I hung up the phone. I still have that note.
It was the saddest thing I had ever heard. Not for me. For my son. The pain in his voice and the confusion were palpable. My daughter in the meantime was agreeing readily with her father. Did I feel betrayed? You bet your ass I did. I also was keenly aware of the power my ex had over our children. I reminded myself that my daughter was a child. She may have been 13 at the time but that's nowhere near an age to stand up to her father, even if she wanted to.
This accidental telephone call, was a gift because it confirmed what I had begun to suspect. He was trying to keep the children and possess as much of their time as possible even when they were supposed to be with me.
Why am I talking about this story from many years ago? Well, I hope you can learn something valuable from it. For example, PA can be very subtle. Recognize the signs EARLY and don't dismiss them.
Why does it happen?
Well there are many theories as to the cause of PA. One certain fact though, is the alienator is in FEAR of losing his children no matter how illogical. FEAR is the opposite of love, so very little of good comes from it. The other certain factor is the alienator is trying to regain CONTROL over a situation he feels he has lost. He may further attempt to RETALIATE against the target parent as a consequence for their abandonment. He may feel that if she has chosen to walk out why should she get the kids? In their mind, there should be a consequence.
All of this adds up to punishing the children. So, how can we help our children cope with our absence, their parent's anger and misrepresentations?
1) Start TALKING-open communication and allowing the children to express what's on their mind—anything, will open up discussion and help ease the child's anxieties. Silence is not the answer.
2) RE-affirm your relationship with your children-either by reminiscing on old, fun or humorous memories, reminding them how much you believe in them, continuing to recognize birthdays, special occasions and continue or start new traditions.
3) EXPLAIN to them that their father's (mother's) anger toward you (the target parent) is not their fault. If daddy is angry, that's not something they can change. Their job is to be the kid.
4) REMIND them that no one is perfect- they aren't perfect. I remember telling one of my kids 'remember that math test you failed? I didn't judge your whole academic abilities on that one exam, right? So, is it fair to judge me based on that ______ mistake?" You're not perfect, they're other parent is not perfect either. We have to accept that we make mistakes. Apologies are important and eventually we move forward as a family.
5) Re-WASH or RINSE their brains with the good memories and reality of what your relationship was like in the past and hopes for the future. Don't stop planning for the future with your kids whether that's tomorrow, next week, next month or next five years. This shows them that you believe in them and are there for them no matter the situation.
I hope this helps you understand Parental Alienation a little better. Mostly, I hope you are able to help your children cope with it. It is a form of child abuse. Also, don't forget to make sure you're not falsely accusing your ex of PA. Read my first post on the subject, watch the video and/or read my book, where I outline questions to ask before diagnosing PA.
Bottom line? No parent should be deprived of a relationship with their child(ren).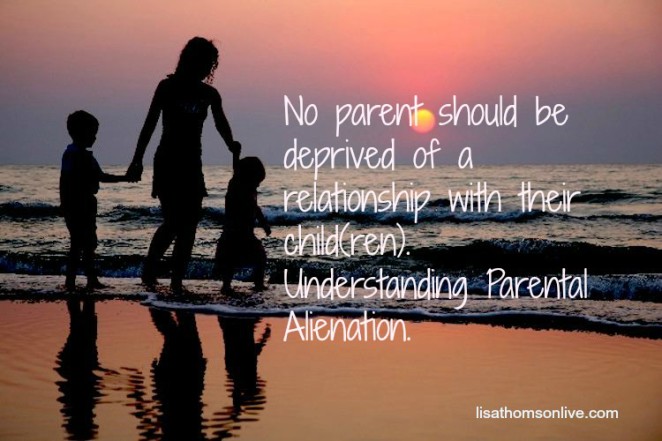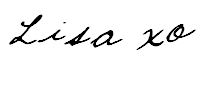 Know someone who would enjoy this post? Share it!
Related Posts: