Art journaling is a 'thing'. Have you tried it yet? I first heard about it a few years ago and was intrigued. There are many ways to do it but pretty much only one reason; therapy. Specifically to mentally unwind, go wild, let go and unlock your creative juices and your emotions.
Creative juice. We kind of get it beaten out of us. As a child we create all kinds of things and feel proud of our creations that is until an insensitive adult tells us what's wrong with our masterpiece. So, why not get that back through creating a very personal art journal. You can call it your divorce art journal…
So, what exactly is art journaling?
Art journaling can be as abstract or realistic as you like. As colorful or grey as you choose (or should I say as you 'feel' on any particular day).  The first few times I tried the 'word' method. These two images from my journal are examples;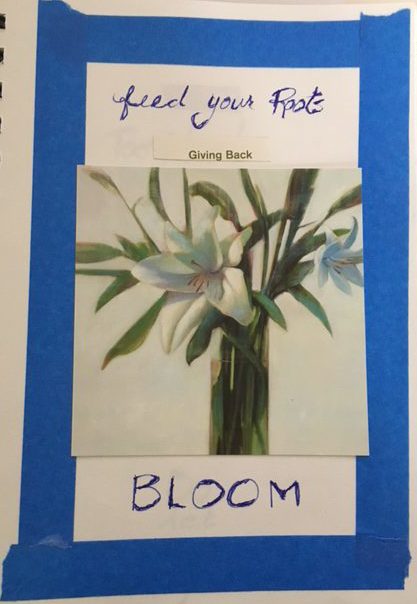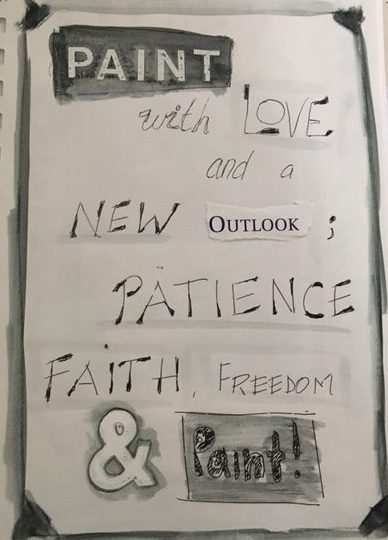 The 'word' method
Cull old books or magazines you'll never read again and open to a random page. Scan the page quickly and find a word that draws your eye. Cut that ONE word or phrase out. Paste it on the page and build around it. In my first image above, 'giving back' was the phrase I chose and in the second image it was 'paint'. The idea with this kind of art journaling is that you choose your word within seconds. Don't give it much thought.
The point is to enjoy the process and while you're doing it—surprise! You are creating an inspirational message only for you. The happy side effects are that you're releasing anger, sadness, doubt, love, frustration…
Mixed media method
Layer your pages with various combinations of images, words, shapes and doodles. For example, use decoupage to lay your cut out words over top of abstract shapes. Add color using paint, or any media of your choice. Here is an inspirational video featuring Joanne Sharpe's work. I like this example because it shows the use of vivid color mixed with stories, phrases and paragraphs. That said, she's an accomplished artist so please don't compare your own journal to hers and certainly don't begin by setting expectations on your art journal. That would defeat the purpose.
Remember though, this is all you. Your story, your words and your handwriting. Your images and sketches. It is solely for you so fear not if a page doesn't look like Joanne's or anything like what your vision was initially. It. Doesn't. Matter.
What you'll need
Start by buying a spiral bound sketch book of any size, some mixed media such as watercolor pencils, pencil crayons, permanent markers (I like fine point), paint, old books, magazines, and crayons. Yes I said crayons. They aren't just for kids, ya know. Watercolor over wax can be quite interesting. Other supplies may be paint tape, glue sticks to paste into the work, any clippings that you're drawn to. Note: you can also buy watercolor paper in a pad, which can be better than a regular sketch pad if you plan to use watercolors.
Looking at a blank page can be somewhat intimidating. Here's where the challenge comes in. Knowing where to start. My advice is this, don't ever think about the end result because it doesn't matter. You don't have to send a message or have a purpose. For once in your life, this is purely an exercise in process.
Sometimes I use my art journal to paste an image of someone's work that has piqued my curiosity. Here is an example of a photographer's work that inspires, or strikes a chord with me.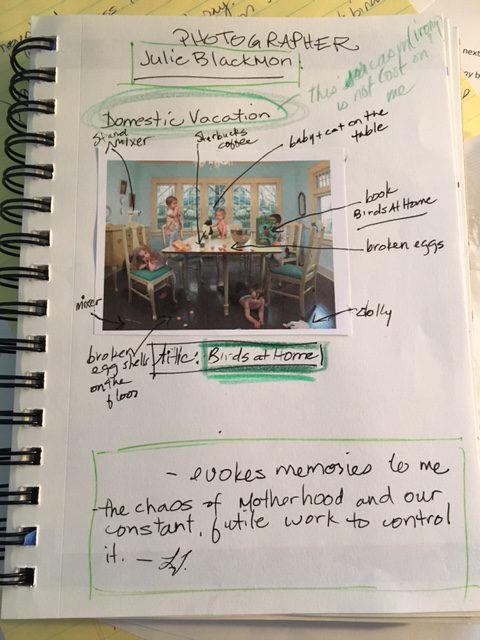 I'm an artist myself and drawing and painting (in both oil and acrylics) has been my choice of expression. I have focused on portraits and figure studies for many years. So, I know the pain of trying to make something look like someone or REAL. Not easy.
In the last few years due to limited space, I've worked in small pieces mainly in abstract. I have to say I love the freedom of abstract work. There is no right or wrong but there is a successful piece vs. one that isn't working. So, abstract painting is an animal all its own. Regardless, taking up art journaling allows me to let go of any expectation of my art. It allows me to get more creative and experiment. Most of all, it allows me to channel emotions and ultimately relax and destress.
De-stressing is something I thought my Escapees would be interested in. Art therapy, if you will, is much more fun than real therapy.
 5 Benefits of Art Journaling;
De-stress
Release emotions
Get creative juices flowing
Therapeutic benefits without the therapist
Bottom line is de-stressing is something we all need to do. Why not do it by channeling our emotions through creative expression? Art therapy, if you will, is much more fun than real therapy.
Here are two of my favorite sites with tons of art journaling ideas and inspiration at createmixedmedia.com  & clothpaperscissors.com
Have you tried art journaling?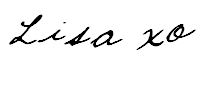 Know someone who would enjoy this post? Share it!
Related Posts: