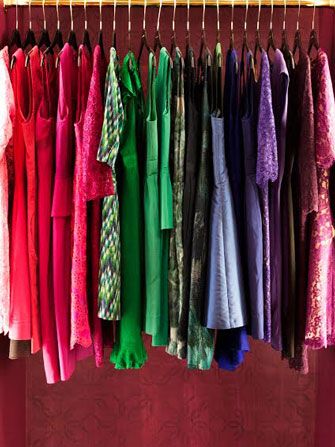 We think it's the right dress for us. We loved that color at the time…but now looking back at an old photo we wonder "What was I thinking?"
Huge shoulder pads, 'pleather' pants, floral material at the bottom of our bell bottom jeans.  Pea green skirts and dresses to match our appliances.  Stirrup pants with white boots? Onesies—oh they're back, baby but you won't catch me in one.
  How about the Grunge era? Did you have a man to match your baggy plaid shirt, Doc Martins and greasy hair?  Kurt Cobain was kind of hot.
George, John, Paul…I'm not talking about the Beatles. What did we see in them? Looking back we wonder "What was I thinking?" If you were wearing a jacket with shoulder pads bigger than your head and you have the picture to prove it while snuggling up to 'what's his name'—your latest mistake who you thought was wonderful at the time then you know what I'm talking about.  All your girlfriends told you how attractive he was then you caught him fooling around with one of them in the basement at a house party.  It's as tacky as that jacket and my plastic, bright colored earrings. Yes, that happened. Don't let my 3rd person perspective fool you.
This isn't anyone from my past (pinky swear) but it kind of captures the male, 80's version of the fashion mistake…love the hair!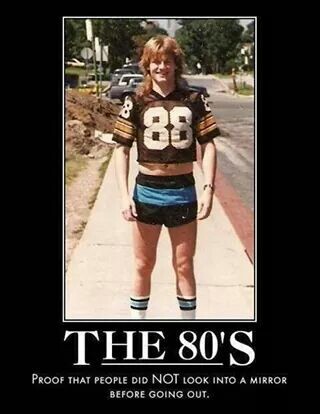 [Tweet "The time comes in a woman's life to 'overhaul' either our wardrobe or the men in our life."]
I mean, I can't keep everything so I'll carefully take inventory of my wardrobe and decide what to give away.  Sometimes I have to give away something perfectly lovely because I just don't wear it anymore. Why have it hanging there if I don't WEAR it? It's taking up precious space. Out it goes…then a year later I'll wish I had kept that particular piece. Why do I do this?  The lament doesn't last for very long. It might even be simply a fleeting thought. "Remember that red sweater? If only it hadn't shrunk (or I hadn't grown), I could still be wearing it." Alas, I said goodbye…we parted ways and wished one another well.
Then there might be the one you gave up and regretted EVER more.  He was kind of like the cashmere sweater of men.  A keeper, who always kept you warm but you got bored of the style or you were not mature enough to see the quality of man right before your eyes.  Years later you look for pictures of this one–the cashmere that got away–and look for clues as to why you were so dumb.  "How did I not see?"
The rainbow of cashmere love…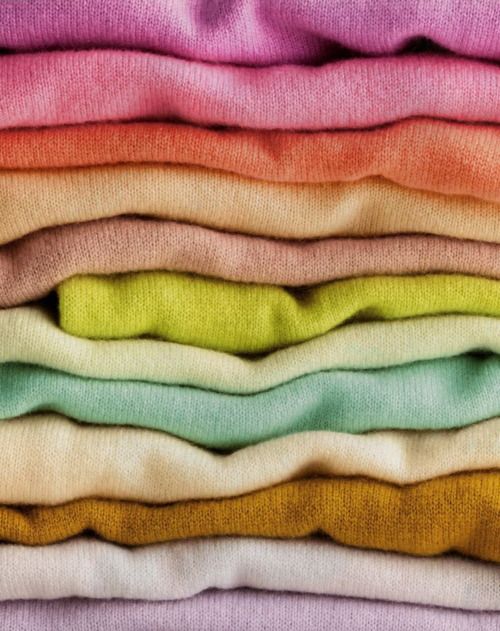 The trick is knowing before we invest, what and who is right for us for now and forever.  Having fashion sense and knowing quality fabrics from cheap ones will help take us beyond the current season and into the next decade. Recognizing the trend versus the classic takes experience and "je ne sais quoi"…yes, that certain something—confidence. If we have confidence in ourselves and love ourselves we're more likely to choose the forever man and a more classic wardrobe. At least, we're more likely to find a man and the clothing that fits us just right.
No more fashion mistakes and no more man mistakes. Well, maybe one or two…
By the time we're in Act II of our life we have that confidence and know what and who really clicks and looks good on us.  Lucky for me I reclaimed my cashmere sweater…oh, yes I did.  He's still keeps me warm and I appreciate his style even more now than I did back then.  The tears have been patched up nicely and he has proven his fabric will last my lifetime.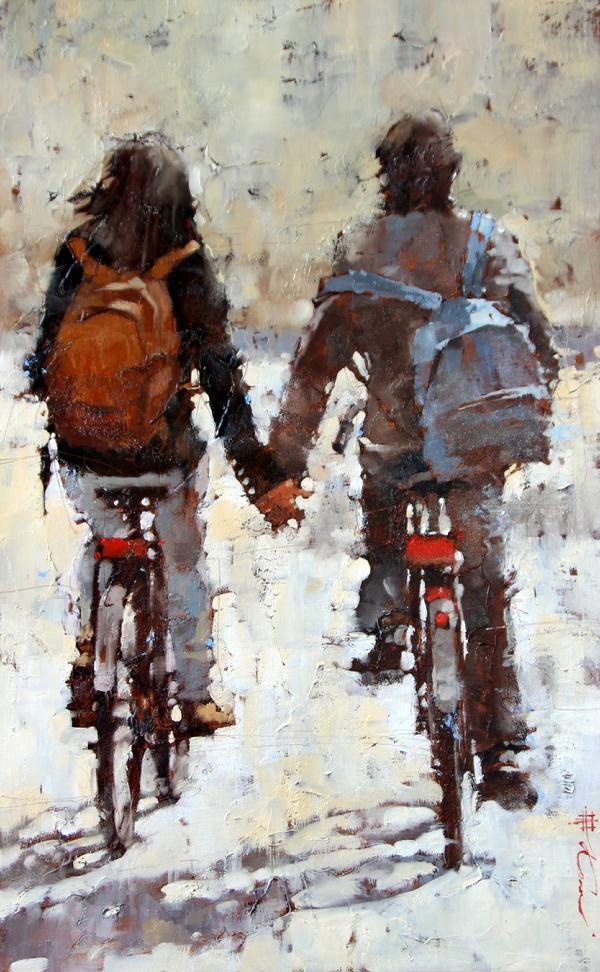 It's okay to make fashion mistakes and it's okay to make man mistakes. That's how we learn what and who is right for us.  The trick is in recognizing these items and men for what (who) they are before we get our heart broken or give away the wrong one.
What was your favorite fashion or man mistake? Spill it…Do you recognize a fashion trend OR do you always go for the 'forever' classic man?
Leave a comment, I love 'em!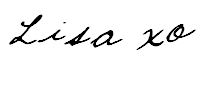 Know someone who would enjoy this post? Share it!
Related Posts: