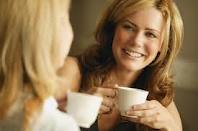 During divorce, or any turbulent time in your life, they say you find out who your 'true' friends are. I believe this is true. When times get rough who comes to let you cry on their shoulder? When you feel crazy who reminds you you're sane?
Who helps you unpack the boxes after an emotional move? Who gives you a hug or a phone call right when you need it most? …A TRUE friend.
Unfortunately though, some friends disappear in tough times.  They "aren't good at sad stuff" they tell you and you never hear from them again!  One of the lessons I learned during my divorce was that some friends are just lousy.   In your time of need they can't pull through and their selfish ways become crystal clear to you.  Now is not the time for you to continue allowing people to walk over you.  Remember, you teach people how to treat you.  So, you may let some friend 'ships' sail away.  Maybe certain friends are best friends with your ex, and this makes it difficult for you to move forward.  This kind of situation reminds me of that song by James Taylor "Her Town Too" when you read this verse, you'll know what I mean;
"She gets the house and the garden
He gets the boys in the band
Some of them his friends
Some of them her friends
Some of them understand"
Here is the whole song; [jwplayer mediaid="1196″]
Either way, friendships are bound to change when you go through divorce.  You will lose some, gain some and learn plenty about yourself and the people around you.  Take the best and forget the rest!
Sometimes you'll feel like you have no friends (See November 27th post).   When you feel like this it's a good time to turn to old friends, the childhood ones you may have lost touch with over the years.  Rekindling the old bonds can be healthy and just what you need right now.  The oldest friends know the real you.  They've seen you at your best and at your worst.  There are no pretensions.  Childhood friends don't care what kind of house you live in, what kind of car you drive, or where you vacation. 
They simply share irreplaceable memories with you.  You may find you have less in common with some of the old friends now but as long as there is a mutual delight in each others company, you can't go wrong.  Your childhood friends will undoubtedly help you get back in touch with your genuine self.  I still see one of my oldest childhood friends regularly.  Although over the years there has been distance and times where we have been out of touch, we always manage to find each other again and pick up without missing a beat.
I believe overall, it's important to realize that people in our lives will come and go.  For whatever reason, friendships do expire.  In all of our relationships there is a beginning, middle, and an end.  When and how the end comes is different for everyone.  But during a divorce the end can come faster for some friendships.  Which friends allow you to fly and which ones make you feel as though you are swimming upstream?
Here are some examples of great fictional friendships;
Remember, the divorce experience can make you a better friend to someone because you have more empathy.  After going through this process, you can be that shoulder to cry on or the one unpacking boxes.   Is there someone you've been neglecting?  Is there a friend you want to thank for their support?  Is there a friend from your past you've lost touch with and always think about?  Pick up the phone and get back in touch…because the right friendships can get you through this tough time!

Know someone who would enjoy this post? Share it!
Related Posts: